Fish + Plants = AQUAPONICS
It has been a busy spring semester here, so I haven't been the best at keeping up with the blog. But we are on the downhill slide towards the end of the year and we've got some new fish! Duane has been awesome and got us some grey goldfish for the tank and planted some kale (not only a hip and trendy plant, but also super easy to grow).

Fingers crossed we can keep these goldfish alive through the brutal Texas heat to come. Updates soon with pictures, hopefully!
Powered by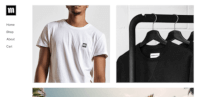 Create your own unique website with customizable templates.